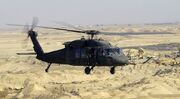 The
UH-60 Black Hawk
is a four-bladed, twin-engine medium lift utility helicopter serving the
United States Army
. It will the the principal troop-carrying helicopter in the U.S. Army in the
Army Wars
series, by making its first appearance in
Army Wars: Red Tide
. It's also being used by the U.S. for recovery and special operations. There are also some variants, including a
United States Navy
variant, the
SH-60 Seahawk
, and a search and rescue helicopter, the
HH-60 Pave Hawk
.
The UH-60 Black Hawk was introduced and first flown in 1974, and entered U.S. Army service in 1979, as a replacement for the UH-1 Iroquois (Huey), another utility helicopter being used by the Army and Marines since 1959. The UH-1 'Huey' saw combat action with the Army and USMC in the Vietnam War, delivering troops into battle, giving them supplies, and doing MEDEVAC's, or medical evacuations. During the early 1970's, the U.S Army went on working on a new utility helicopter to take its place. This new helicopter, the UH-60 Black Hawk, manufactured by Sikorsky Aircraft, a American aircraft manufacturer company, first flew in 1974. In 1979 (5 years later), the UH-60A Black Hawk entered service with the U.S. Army, replacing the UH-1 as the Army's tactical transport helicopter.
World War III
Edit
Army Wars: Red Tide
Edit
The Black Hawk will make its first appearance over West Germany, in the year 1987, when the Cold War is being threaten to transform into an all-out Third World War, delivering Sergeant James Parker to the newly-formed Alpha Company, under the command of his father, Captain John Parker. The helicopter will make other appearances in the story, but its unknown when it will be seen.
The UH-60 Black Hawk will also serve in other factions in Army Wars, but as of now, it is unknown which factions will it serve in this alternate universe. Possibly the British Army and one of its special forces, the Special Air Service.