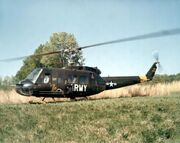 The
UH-1 Iroquois
(commonly known as the
UH-1 Huey
) is a utility helicopter powered by a single, turboshaft-engine, with a 2-bladed main rotor and tail, with later models having 4 blades on the main rotor and tail rotor. The Huey helicopter was developed by Bell Helicopter, a manufacturing company, to meet the
United States Army
's requirement for a medial evacuation and utility helicopter in 1952, and it first flew on October 20th, 1956. Ordered into production in 1960, the UH-1 was the first turbine-powered helicopter to enter production for the U.S. Armed Forces. More than 16,000 have been built. The UH-1's first combat operation was in the Vietnam War, in the service of the U.S. Army, and approximately 7,000 UH-1 helicopters saw service in the war in Southeast
Asia
. A variant called the
UH-1N Twin Huey
is currently serving serving the
United States Marine Corps
, along with the
U.S. Navy
, and
Canada
, as of 1987 (the events of
Army Wars: Red Tide
). It is being replaced by the
UH-60 Black Hawk
as the Army's primary troop transport helicopter, but is still serving as a medical evacuation (MEDEVAC) helicopter.
In 1952, when the Korean War was ongoing, the Army identified its requirement for a new helicopter to serve as medical evacuation (MEDEVAC), instrument trainer, and general utility aircraft. The UH-1 Iroquois (known as the HU-1 at the time, until 1962) first flew on October 20th, 1956, and entered service with the U.S. Army in 1959. It first saw combat operations in the Vietnam War with the Army and Marines, with about 7,000 of these aircraft that saw service. In the 1970's, the Army decided that it needed a new utility helicopter in the Huey's place. In 1974, Sikorsky's UH-60 Black Hawk first flew, then entered service with the U.S. Army five years later. Even though the older UH-1 Iroquois is being superseded by the new Black Hawks, it still serves as a MEDEVAC helicopter, and sometimes airborne troop transport, in the U.S. Army. The Marines still have a Huey model in service as its main troop transport helicopter. the UH-1N Twin Huey.
World War III
Edit
Army Wars: Red Tide
Edit
The UH-1 Huey is possibly going to appear in Army Wars: Red Tide, as a MEDEVAC helicopter for the U.S. Army, and its new Alpha Company.
Some Huey helicopters will probably have the insignia of the 1st Cavalry Division, which was one of the U.S. Army's cavalry divisions that used them since the Vietnam War.