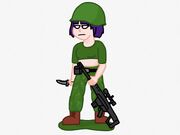 Stacy Parker
is a skilled sniper in the
United States Army
, the little sister of Sgt.
James Parker
, and one of the supporting protagonists of the
Army Wars
series, making her first appearance in
Army Wars: Red Tide
. She carries an
M21
sniper rifle
for long-range sniper support, and an
M1911
pistol for close-range combat. She will later receive the new
Barrett M82
50-cal. sniper rifle in the future. She and her older brother, James, get along just fine, and they work together since their reunion in Army Wars: Red Tide. She is under the command of Captain
John Parker
, who is also her father.
Pre-World War III Life
Edit
Stacy was born in 1965, 2 years after the birth of her brother, James, in a hospital in New York City, New York. Her favorite skyscraper in the city is the Empire State Building. She used to stare at it for minutes when she was a little girl. At the age of 14, she still looked at the Empire State Building as her favorite tall building, even though the newly completed twin towers of the World Trade Center had taken its place as the tallest skyscrapers in NYC, she began to stop staring at her most favorite building in her hometown. When she heard that her brother was joining the U.S. Army in 1983, she enlisted with him. They both left New York for basic training, much to their mother's dismay and sadness. They always wrote letters to her, saying that they're okay. They both passed basic training, but Stacy was ordered to Western Europe first, forcing them to separate for a while. It didn't just made James disappointed that he didn't get to go yet, but he missed his little sister, Stacy, so much. He cared about her a lot, but he knew that she could take care of herself, since she has grown up.
Alpha Company/Reunion
Edit
The year is 1987, and the Cold War is getting closer to erupting into World War III, with the Soviet Union secretly planning a massive invasion into Western Europe (with the promise of not using their nuclear missiles and weapons). Stacy was assigned to Alpha Company, a new U.S. Army unit, under the command of her own father, Captain John Parker. On April 23rd, a UH-60 Blackhawk troop helicopter arrived, with a special surprise for her and her father. Sgt. James Parker has arrived in West Germany, as the newest sergeant in Alpha Company. And it wasn't just John who was glad he came along and gave him a warm welcome. Stacy was very happy to see her big brother again, after being separated after basic training at home. She ran towards James, and gave him a hug, warming the hearts of the captain, and their fellow A Company soldiers. Can Stacy and James work together against the Soviets' planned invasion? We'll find out soon.
She resembles to two cartoon goth girls; Gwen from Total Drama, and Nikki Wong from 6teen, since her hair is purple or violet.